We are always looking for highly skilled and trained individuals to add to our team!
If you are a Master Electrician, Journeyman Electrician, enthusiastic apprentice, office person or just have a great personality and looking for a change or a new career in our growing Dandelion Renewables, we would encourage you to submit your resume to operations@dandelionrenewables.com
We look forward to any qualified opportunity that comes our way!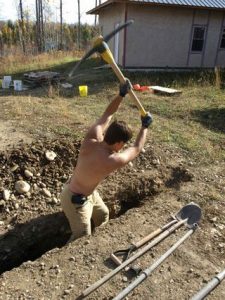 This position is already filled 😉
---
Dandelion Renewables is looking for a solar installer to work on ground-mounted solar projects in Alberta, BC, and SK. The successful candidate will be primarily working on installing mechanical and foundation components of the solar PV systems.
Mandatory requirements:
Care about the environment, has a healthy and sustainable lifestyle, non-smoker;
Well tolerate cold in the winter and heat in the summer, as most of the work will be outside, expect to handle weights ~30kg;
Must respect and follow the company safety policy;
Precise with measurements and fast on tools, please specify if you have carpentry, electrician, or mechanics experience;
Require minimum supervision when working on your task;
Experience with running and maintaining a mini excavator, skid steer and zoom-boom;
Able to work out of town. While our head office is located in Edmonton, the position would require a significant amount of travel (~50%) to work on the projects outside of the Greater Edmonton;
Must have a clean driving history and be insurable to drive the company truck with a trailer.
Optionally requirements:
Surveying or utility locate experience;
Experience in welding and/or working in a metal fabrication shop;
Knowledge of how hydraulic equipment works and experience in the hydraulic equipment repair;
Helical piles installation experience;
Farming experience.
In your application, we would like to see a COVER LETTER explaining how you can meet the above requirements and a resume and why do you think this career will be a good fit for you. Resumes without cover letters will not be considered.
Most of the work will be on the ground-mounted PV systems and will include trenching, driven and helical piles installation and racking assembly. While the ground is frozen or during breaks between ground-mounted projects, the successful candidate will be helping with rooftop and wall-mounted solar PV systems install.
This is an excellent career for a self-confident well-rounded and mechanically inclined individual.
Key Responsibilities:
Manage and supervise electrical crew;
Install electrical components of solar PV systems: roof-top, ground-mount, grid-tie and off-grid;
Ensure the highest company standards and electrical code requirements are met;
Maintain clean worksite and tools/materials well organized;
Ensure projects are completed on time and on budget;
Take pride and ownership in every task performed.
Skills Required:
Understanding how solar power systems operate is essential;
Meticulous in installing electrical wires;
Fast on tools, mobile and agile on roofs;
Physically fit and able to lift solar panels;
Be able to work 5-day shifts out of town;
Clean driving history and ability to safely drive loaded flat-bed 16′ trailer is a must.